Gift Ideas Under $50
Discover an unparalleled selection of gifts at Wild Birds Unlimited of Mt. Pleasant! Our inventory is brimming with unique finds sourced from fair trade vendors, local artisans, and exclusive suppliers, ensuring a distinctive array of items you won't encounter elsewhere. In these budget-conscious times, we understand the importance of value. Whether you're seeking the pinnacle of bird feeding excellence or staying within a specific budget for group gifts or exchanges, we have the perfect options for you.
In addition to our exciting new gift offerings, we firmly believe that bird feeding makes for an exceptional holiday gift. It's more than just a feeder; it's the gift of a new hobby, an experience unmatched by ordinary presents.
Embark on your holiday shopping journey with us and let Wild Birds Unlimited of Mt. Pleasant simplify the process for you! Take advantage of our complimentary gift wrapping with every purchase.

Original Bird Clock
Crafted by the innovator behind the Original Singing Bird Clock, this 13-inch Limited Edition 20th Anniversary timepiece showcases twelve exquisite birds, each accompanied by authentic sounds from North America's most renowned species, chiming at the top of every hour. Encased in an elegant Green Matte frame, the clock boasts high-quality bird images and recordings. The detailed packaging offers insights into bird habits and habitats, while a light sensor ensures the songs deactivate in a dark room. An exceptional and thoughtful gift. Price-$39.99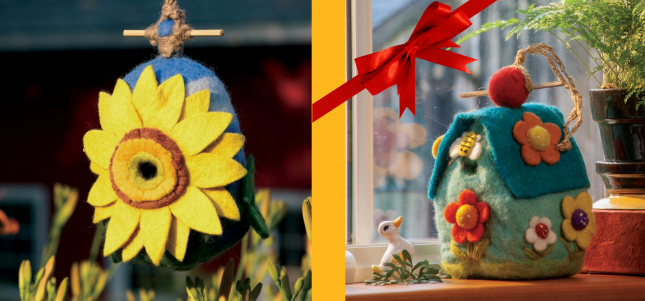 Hand Crafted Felt Bird House
Discover our sought-after hand-felted birdhouses, meticulously crafted by skilled artisans in Nepal and India. Embraced for their vibrant designs and versatile use as both outdoor birdhouses and stylish indoor decor. Specifically designed for wrens, prevalent throughout North America. A delightful and educational gift suitable for everyone on your list. Exclusively created and responsibly made by dZi Handmade, a co-founding member of the Fair-Trade Federation. Price: $49.99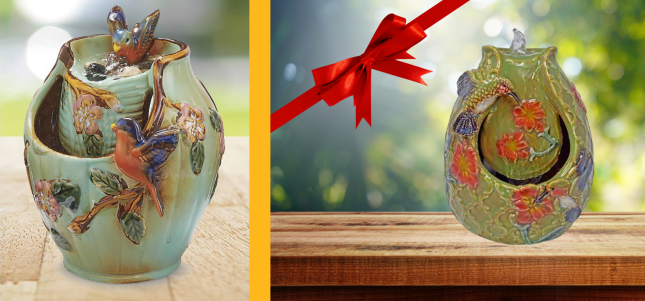 Ceramic Table Top Fountains
Experience tranquility with our charming ceramic tabletop fountain adorned with beloved birds. Powered by electricity, the adjustable speed pump allows you to customize the flow, while the included river-washed pebbles add a natural touch to enhance your soothing environment. Price: $45.99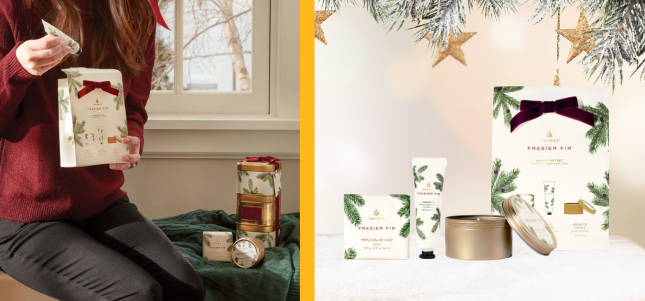 Frasier Fir Gift Set
This delightful gift ensemble includes a fragrant bar soap, a dainty hand cream, and a convenient travel tin, all infused with the beloved Frasier Fir scent complemented by hints of cozy mulberry velvet and berry accents. An ideal choice for expressing gratitude as a hostess gift during festive gatherings. Price: $39.99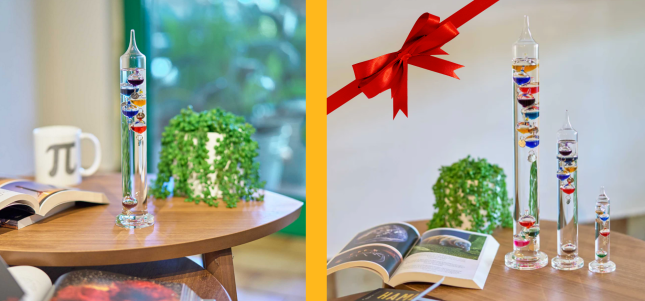 Galileo Thermometer
Elevate your space with the Colorful Glass Tabletop Galileo Thermometer—an artful blend of style and science. Standing at 20" tall, this analog thermometer, inspired by Galileo's design, adds a worldly accent to any home or office. The liquid-filled balls in the blown-glass cylinder change position with temperature variations, showcasing a mesmerizing display. Each ball features a temperature charm, and the lowest bubble in the top grouping indicates the current temperature. Securely placed on an attached glass stand, this vibrant Galileo thermometer is a captivating decorative piece for weather enthusiasts. Price: Large Thermometer $39.99 (comes in smaller sizes too)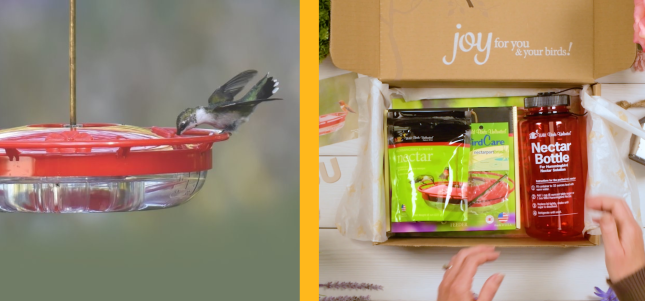 HighPerch Hummingbird Feeder with Nectar Bottle & Nectar:
Elevate your hummingbird-watching with our exclusive gift combo, featuring the High Perch™ feeder, specially formulated nectar, and a convenient storage bottle. The small High Perch™ feeder attracts hummingbirds, offering a cozy resting spot for extended bird-watching. Our easy-to-make nectar ensures a delicious and nutritious food source, and the WBU Nectar bottle lets you store it in the fridge for up to a month. Enhance your hummingbird experience with this thoughtful and comprehensive gift set. This combo is available online: Feeder, Nectar, Bottle. Price: $47.97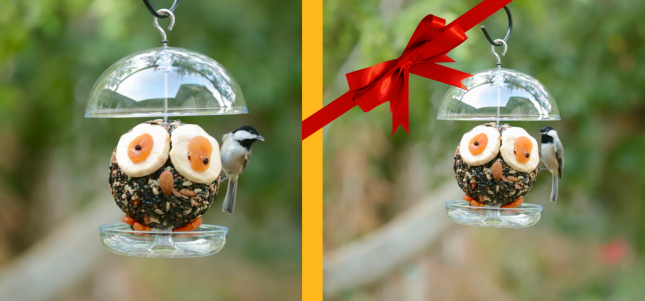 Mini Clear Domed Feeder with Hoot Owl Seed Character:
Gift our Clear Domed Platform Bird Feeder, a perfect blend of practicality and charm. The plastic dish generously holds 1/4 quarts of seed, while the ample dome ensures coverage to keep larger birds at bay. Hanging this feeder is a breeze with the robust metal rod and hook. Elevate your gifting experience by pairing it with our endearing Hoot the Owl seed character, creating a thoughtful and delightful gift for bird enthusiasts. Enjoy the beauty of nature right outside your window with this stylish and functional addition to your bird-feeding setup. Price: $39.98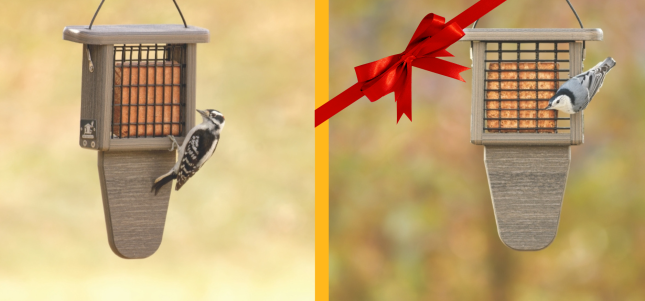 Modern Rustic Tail Prop Suet Feeder with Hot Pepper SuperSuet Cake
This feeder mimics a tree trunk, providing birds a natural perch for feeding. Easy to fill and hang anywhere, this feeder accommodates one suet cake. Built with EcoTough® technology, these environmentally friendly products are made from recycled plastic milk jugs, ensuring they won't rot, crack, fade, or warp like traditional wood feeders. High quality and eco-conscious, our Modern Rustic feeders redefine bird feeding with style and sustainability. This combo is available online: Feeder & Suet Cake Price: $46.98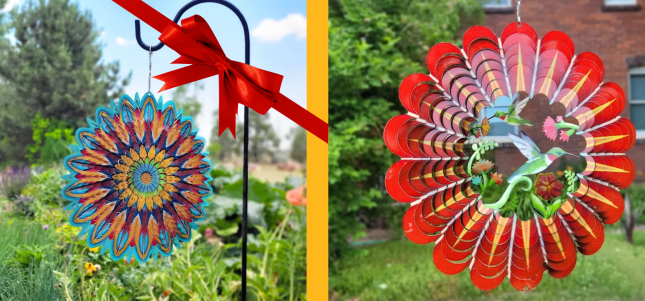 Stainless Steel Wind Spinners
Explore our collection of exquisite wind spinners and accessories made from durable stainless steel. Choose from a diverse range, including vibrant mandalas, animated styles, 3D creations, and crystal designs. Crafted with high-quality stainless steel, these spinners effortlessly dance in the breeze, creating a mesmerizing visual display. Consider gifting one and treating yourself to the enchantment of these captivating pieces this holiday season. Price: $40.99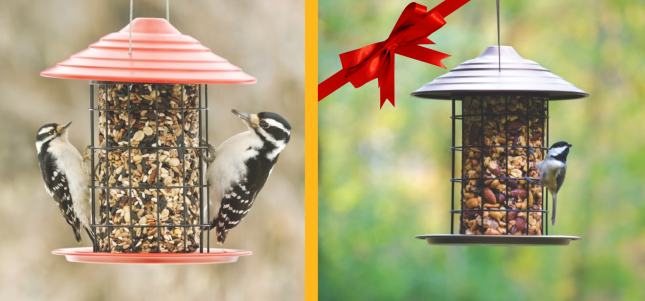 Tidy Cylinder Feeder with Cylinder
This feeder is designed with a tray that reduces the amount of uneaten seed debris that falls to the ground, making it easy to offer seed cylinders to birds. You can simply drop one of our exclusive seed cylinders into the feeder, hang it, and watch your birds enjoy! This combo is available online: Feeder & Cylinder Price: $46.98