MOULTRIE MIDDLE SCHOOL'S DONATION STATIONS
Click item to purchase & donate to Moultrie Middle School's Bird Feeding Stations! When ordering online, please write in the notes section that the purchase is intended for Moultrie Middle. We will deliver and set up the feeder stations as items are purchased. They need 2 of each item to allow for 2 complete, 12 elements feeding stations.
1st Pole Setup
2x Basic Mounting Hardware - 65.99
2x Classic Too - 54.99
2x Perch Branch - 15.99
2x High Perch Hummingbird Feeder - 26.99
2x Modern Rustic Catch a Seed Tray + Flange - 85.98
2x 8" Steel Baffle - 51.99
2x WBU Nectar - $4.99
2x White Deluxe Plus - $49.99

2nd Pole Setup
2x Basic Setup Hanging Hardware - 89.99
2x Modern Rustic Suet Feeder - 28.99
2x Ecoclean Large Tube Feeder - 63.99
2x WBU Dinner Bell Feeder - 44.99
2x 8" Steel Baffle - 51.99
2x WBU Globe Cylinder Feeder - 34.99
2x APS Double Arm Swaged - 22.99
2x Nesting Superblend - 32.99
2x Hot Pepper Supersuet No-Melt Cake - 4.99
2x Nesting Superblend Cylinder - 15.99
2x Bark Butter Bits 3 lb - 12.99
OR, purchase a gift card to be used by Moultrie Middle for items they need or ongoing filling of the feeders.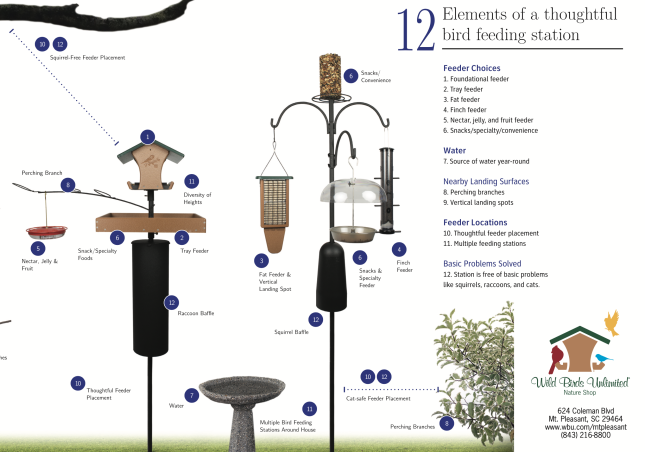 WBU Kids Club
Join our new WBU KIDS CLUB today and receive a FREE BIRD FEEDER with FOOD and a BIRDING CHECKLIST! Inspire your young one by adding the joy of birding into their life. By joining the Text Club, we let you know about our fun, interactive, and educational WBU KIDS EVENTS that everyone can enjoy. We will also let you know about in-store specials, occasional freebies, and fun nature activity ideas. JOIN NOW!
Thank You
We are so thankful to have the opportunity to work with our neighboring school on this project. We recently donated two bluebird boxes, poles, and baffles, and had immediate success with Eastern Bluebirds building and raising a nest right away! We are committed to helping maintain the feeder set ups at the school, matching all bird food donations so the stations never run empty, and building a beautiful, educational, and entertaining area for the community to enjoy! Thank you for supporting Moultrie Middle School and our small, local business!